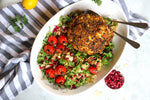 Baking a whole cauliflower seems like a mammoth cook and yes, it is a little lengthy but soooo EASY! Pinky promise! You can play around with different pastes and marinades but I can assure you, that this recipe is creating a flavour explosion and perfect combo. Whether you are organising a dinner party or are invited to bring something and want to wow everyone with this vegan showstopper, we can't wait to hear what you think! 


Serves 4 | Prep Time 10min | Total Time 60min
1 whole cauliflower
1 1/2 tbsp
SPICETUB Salad Dressing Mix
1/2 tbsp
SPICETUB Moroccan Chicken Mix
2 tbsp olive oil
1 tbsp lemon juice
8 vine tomatoes 
2 cups vegetable stock + 1 cup water
2 cups white quinoa
2 cups rocket leaves
Handful fresh parsley
1/2 cup slivered almonds, toasted
1/2 cup pomegranate seeds
Preheat your oven to 180C. 
Add the whole cauliflower to a large pot with boiling water. Blanch for 3min and transfer to a baking tray lined with baking paper. 
Create the marinade by mixing together the SPICETUB Salad Dressing Mix, SPICETUB Moroccan Chicken Mix, olive oil and lemon juice. Brush that paste over the cauliflower and bake/roast in the oven for 45min. Then, add the vine tomatoes to the tray with a dash of olive oil and place the whole thing back in the oven for another 15min.
While the cauliflower is baking, bring the vegetable stock & water to the boil, add the quinoa and cook per packet instructions. 
Mix the rocket & parsley through the quinoa and serve on a large plate. Place the cauliflower on the quinoa bed and sprinkle the almonds & pomegranate seeds at last. Enjoy! 



By SPICETUB

** If you re-create this dish or any other delicious SPICETUB creations and feel like sharing the love on your socials, don't forget to tag us @spicetub and use the #spicyaction. We draw a winner monthly for some very special prizes! Good luck and happy cooking!