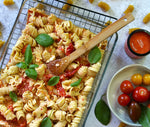 Tiktok Feta Pasta but better!
Tiktok trends! You don't have much time to jump onto the tiktok trend wagon, so when you finally do and are late to it all, you just have to make sure that you up-level, up-scale, be even better and simply smash it out of the park. That's what we did by throwing our Pizza Master into the whole Feta Pasta game and yep, we have officially up-levelled this whole trend if we may say so ourselves.   
Serves 4 | Prep Time 5min | Total Time 35min

INGREDIENTS
1 block feta cheese
2 punnets cherry tomatoes
2 tbsp extra virgin olive oil
2 tbsp SPICETUB Pizza Master
4 cups pasta of your choice, uncooked

METHOD

Preheat your oven to 180C. 
Place the feta in the middle of an oven-proof dish and surround it with the cherry tomatoes. Sprinkle the olive oil and SPICETUB Pizza Master on top and gently toss, making sure that all tomatoes and the feta are coated with oil and the spice mix. Bake for about 30min or until the tomatoes have started blistering and the feta cheese is starting to melt. While the feta & tomatoes are baking, cook the pasta as per packet instructions.
Smoosh the feta and tomatoes with a fork, add the cooked pasta, toss to coat and enjoy! Super easy, quick and deeeeeelicious! 

By SPICETUB

** If you re-create this dish or any other delicious SPICETUB creations and feel like sharing the love on your socials, don't forget to tag us @spicetub and use the #spicyaction. We draw a winner monthly for some very special prizes! Good luck and happy cooking!