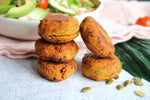 Super Easy & Delicious Falafel Recipe
Crunchy on the outside; Moist, delicious and soooo fragrant on the inside! These falafels are so easy to make and you only need 3 main ingredients: Flour, spices & baking powder!!! Entirely vegan and one of my favourite little add ons in my salad or lunch wrap. Enjoy!
Makes 6 falafels | Prep Time 5min | Total Time 30min
1/4 tsp baking powder
1/2 cup hot water
Squeeze fresh lemon juice
Optional: 1 tbsp chopped chives & 1 tbsp chopped parsley
Combine the chickpea flour,
SPICETUB Roasted Chickpea Mix
 and baking powder. If you are also adding the optional herbs, add them now and stir to combine. Add the hot water and lemon juice and stir to combine to reach a thick and sticky consistency. Cover and refrigerate for 15min. Once cooled down, form little patties with your hands. You can either air fry or bake the falafels or pan fry them in olive oil. Pan frying them is my favourite method as it leaves a juicy and super delicious crunchy crust! Enjoy!
By SPICETUB

** If you re-create this dish or any other delicious SPICETUB creations and feel like sharing the love on your socials, don't forget to tag us @spicetub and use the #spicyaction. We draw a winner monthly for some very special prizes! Good luck and happy cooking!