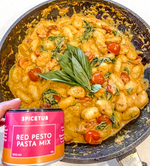 Here is what our recipe creator Anna from @pepperskitchen.au had to say: "The first time I made this, it blew our socks off... the flavours were phenomenal! [...] , we needed more and let's be honest, life is better with good food and good food is pasta! If you are like us and feeding 5-6 mouths or just want all the gnocchi you can fit onto your plate, just double the quantities below. The method will stay the same."
Now, we definitely already know that this dish will be a winner so go ahead and ENJOY!


INGREDIENTS

1 1/2 tbsp SPICETUB Red Pesto Pasta Mix
1 tbsp water
1 tbsp olive oil
500g dried gnocchi
270ml pure coconut cream
1/2 punnet cherry tomatoes, halved
1/4 cup sun-dried tomatoes, chopped
150g baby spinach


METHOD

Boil your kettle to get the water for the gnocchi going.
Take your SPICETUB Red Pesto Pasta Mix and place into a small bowl, then add the water and give a good stir. After 5 minutes, add olive oil and stir again. 
It's time to get your gnocchi cooking. Just cook as per packet instruction now. 
Take a large frying pan and add the pesto mix and cook on medium for 2-3 minutes. Then add the coconut cream, then add the cherry tomatoes and stir, cooking for 1-2 minutes on low-medium heat - too hot and you will split your cream. Then add the sun-dried tomatoes and spinach, stirring again to coat and wilt the spinach. Drain your gnocchi and add to the pan, ensure you stir well and coat all the gnocchi in the sauce. Serve immediately and enjoy! 


By Anna Fallon from @pepperskitchen.au

** If you re-create this snack or any other delicious SPICETUB creations and feel like sharing the love on your socials, don't forget to tag us @spicetub and use the #spicyaction. We draw a winner monthly for some very special prizes! Good luck and happy cooking!