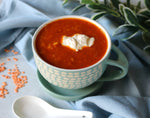 Moroccan Tomato Lentil Soup
For all soup lovers (and to be honest also to all non-soup people because this soup will change you!): Your new favourite soup recipe is about to hit your kitchen! Rich, creamy, filling, vibrant, soooo flavoursome and just incredibly delicious. I know I am really going all out here describing a simple bowl of soup but trust me, this one is worth it. Limited ingredients & time, what else do we want? Alright, I will stop now, keep scrolling and get cooking! Enjoy!
Serves 2

INGREDIENTS

1 brown onion
1/3 cup olive oil
1 tbsp SPICETUB Moroccan Chicken Mix
3 cups water
1 tbsp vegetable stock
100g red lentils (dry)
2 cans diced tomatoes
Optional: dollop of sour cream & fresh coriander as toppings


METHOD
Sauté the onion in the olive oil for about a minute, then add the SPICETUB Moroccan Chicken Mix and cook until fragrant, about 1min. Add the water, vegetable stock, lentils and tomatoes, stir to combine and cook on low-medium for 20min. Enjoy hot and if you like, top with a dollop of sour cream and fresh coriander.


By SPICETUB

** If you re-create this dish or any other delicious SPICETUB creations and feel like sharing the love on your socials, don't forget to tag us @spicetub and use the #spicyaction. We draw a winner monthly for some very special prizes! Good luck and happy cooking!