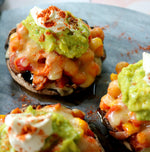 Mexican Stuffed Mushrooms
Yet another incredibly simple and super delicious recipe coming your way! Stuffed mushrooms have always been a favourite of mine but combining them and stuffing them with my favourite cuisine of Mexican goodness is an absolute game changer! 


Makes 5 stuffed mushrooms | Prep Time 10min | Total Time 15min
1 can chickpeas or mixed beans
1 mini can corn
2 tsp
SPICETUB Mexican Beef Bowl Mix
5 portobello mushrooms
1/2 cup cheddar cheese
1/2 avocado
Dollop scour cream
Cook your stuffing of chickpeas/mixed beans, corn and SPICETUB Mexican Beef Bowl Mix for about 5min over low-medium heat. Take the core out of the mushrooms and fill with the stuffing. Sprinkle the shredded cheese over the top and bake in the oven for 5min on 180C. Meanwhile, mash your avocado and finally top your stuffed mushrooms with the avocado and sour cream. I also added some SPICETUB Avo Smash Mix into the avocado for even more magic. Enjoy!


By SPICETUB

** If you re-create this dish or any other delicious SPICETUB creations and feel like sharing the love on your socials, don't forget to tag us @spicetub and use the #spicyaction. We draw a winner monthly for some very special prizes! Good luck and happy cooking!