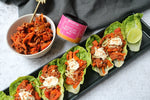 Mexican Beef Lettuce Cups
This is one of those dishes that my husband and I quickly whipped up for lunch and it became such a bloody delicious and visually appealing thing, that I had to snap some photos and share the recipe with you. Those ones are the best, aren't they? 


Serves 4 | Prep time: 5min | Total time: 15min

INGREDIENTS

1 carrot, grated
1 red capsicum, diced
500g beef mince
4 tsp SPICETUB Mexican Beef Bowl Mix
2 tbsp tomato paste
1 can diced tomatoes
2 small romaine lettuce
Handful shredded cheese
2 tbsp sour cream or cream fraîche
1 lime

METHOD

Prep your veg and heat up your pan on medium-high heat with a drizzle of olive oil. Add the beef mince to brown, breaking it up with a spoon and stirring occasionally. Stir through the SPICETUB Mexican Beef Bowl Mix, cook until fragrant. Once the beef is browned slightly, add the carrot & capsicum. Once the veg is starting to soften slightly, add the tomato paste and tin of diced tomatoes. Cook stirring for about 10min. Separate the romaine lettuce into individual leaves, placing them onto your plate as little mini bowls. Spoon the beef mixture into the lettuce leaves, topping them with a sprinkle of shredded cheese and a small dollop of sour cream. Squeeze over a sprinkle of lime juice and if you like a tiny further sprinkle of the SPICETUB Mexican Beef Bowl Mix. Dig in! 


By Svenja Collins from SPICETUB

** If you re-create this snack or any other delicious SPICETUB creations and feel like sharing the love on your socials, don't forget to tag us @spicetub and use the #spicyaction. We draw a winner monthly for some very special prizes! Good luck and happy cooking!