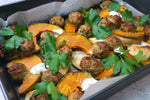 Here is a fantastic family meal that is wholesome, a little different cooking with apple and absolutely delicious for young and old! We have got some meat, some veg, some creamy dressing - Who wouldn't want that combo! A surprise appearance for this pork dish is the SPICETUB Fish Master, but trust us when we say that this is the perfect pairing! Happy cooking!
Serves 4, Prep Time 20 min, Total Time 35 min
500g pork mince
1 red apple, peeled and grated
1 tbsp
SPICETUB Fish Master
1/2 cup breadcrumbs
1 egg
1/4 cup fresh parsley, chopped
2 red apples, thickly sliced
600g pumpkin, seeded & cut into slim wedges
DRESSING
1 tbsp
SPICETUB Fish Master
1 cup sour cream
Fresh parsley to serve -
optional
METHOD


Preheat your oven to 200C. Line a large baking tray with baking paper. Combine the mince, grated apple, parsley,
SPICETUB Fish Master
, breadcrumbs and egg in a bowl. Roll the mince mixture into even-sized balls.
Place the apple wedges and pumpkin on the prepared tray. Top with the meatballs and drizzle with olive oil. Bake for 35 mins or until meatballs are cooked through and apple and pumpkin are tender.
While the meatballs are cooking, mix together sour cream and
SPICETUB Fish Master
. Once cooked, drizzle with sour cream dressing and parsley and serve. ENJOY 😊
By SPICETUB

** If you re-create this dish or any other delicious SPICETUB creations and feel like sharing the love on your socials, don't forget to tag us @spicetub and use the #spicyaction. We draw a winner monthly for some very special prizes! Good luck and happy cooking!