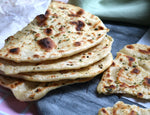 An absolute MUST for any type of curry you whip up at home. Garlic naan is such a big favourite in our household and this recipe is actually very easy and oh so flavoursome. As usual with our SPICETUB recipes, only very limited ingredients needed and super simple steps. I hope you enjoy this one as much as my entire family does! 
Makes 9 Naan Breads | Prep Time 5min | Total Time 1hr 35min
Combine the water and yeast and whisk until well combined. Add the flour and salt and knead using your hands until mixed through. On a floured surface, divide the dough into 9 even balls. Cover and let rise for at least 1 hour at room temperature. While the dough balls are rising, mix the
SPICETUB Mushroom Medley Mix
with the olive oil to create the garlic paste, set aside. 
Once risen, roll the balls into oval shaped naan breads. Heat a non-stick pan to medium/high heat, place one naan at a time into the pan and fry until large bubbles appear. Flip the naan, brush the garlic paste thinly onto the bread and fry from this side now until cooked to your liking and big bubbles appear again. Serve and enjoy! 
By SPICETUB

** If you re-create this dish or any other delicious SPICETUB creations and feel like sharing the love on your socials, don't forget to tag us @spicetub and use the #spicyaction. We draw a winner monthly for some very special prizes! Good luck and happy cooking!