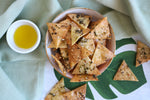 We are back once again with a super speedy recipe that requires only 3 ingredients and will literally blow your socks off. If you have 10min and are keen on some homemade garlic-y, crunchy, salty and absolutely addictive corn chips, you have come to the right place! This method can of course be applied with any spices and herbs you desire, however, this particular choice of the
SPICETUB Mushroom Medley Mix
turns the corn chips into the flavour combo we all have been waiting for! Go on, after a couple of images you will find the 3 ingredients needed plus the super easy method.

Makes 1 small bowl of corn chips | Prep Time 5min | Total Time 10min
Preheat your oven to 180-200C. Cut the corn tortillas into small triangles (or any shape you desire) and spread onto baking paper on a baking tray. Make sure they don't overlap, you may want to use two trays. 
To make the seasoning paste, mix the SPICETUB Mushroom Medley Mix with the olive oil and brush onto the tortilla chips from both sides. Pop into the oven for approximately 8min or until slightly golden and crispy. That's it, it could not be any easier. Enjoy!
By SPICETUB

** If you re-create this dish or any other delicious SPICETUB creations and feel like sharing the love on your socials, don't forget to tag us @spicetub and use the #spicyaction. We draw a winner monthly for some very special prizes! Good luck and happy cooking!