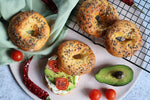 Crunchy, salty with a little kick on the outside and soft & fluffy on the inside. All the things a bagel should be and better! Only 4 simple ingredients are needed, not more than 30min including baking them and you have yourself a super delish breakfast addition! I wasn't too sure before making them that it will work out but IT DID. This recipe will now be used in my household frequently and I promise, that the addition of the SPICETUB Avo Smash Mix is EVERYTHING! Enjoy!

Makes 4 bagels | Prep Time 5min | Total Time 30min
Preheat your oven to 180C. Add the flour and yoghurt to a bowl and mix to combine. On a flour dusted surface, cut the dough into four portions. Roll each into long logs, combining the ends to create a circle. Make sure to leave enough room for the hole, so the bagels don't close over the hole. Place on a prepared baking tray. In a small bowl, whisk the egg to create the egg wash. Brush the bagels with the egg wash and sprinkle the
SPICETUB Avo Smash Mix
. Bake for 25min or until crisp and golden. Let cool completely before enjoying with your favourite bagel spreads!
By SPICETUB

** If you re-create this dish or any other delicious SPICETUB creations and feel like sharing the love on your socials, don't forget to tag us @spicetub and use the #spicyaction. We draw a winner monthly for some very special prizes! Good luck and happy cooking!