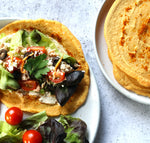 I definitely did a mini celebration dance when I flipped my first wrap experimenting with this new recipe! I still can't quite believe that we have delicious and incredibly versatile homemade wraps without using any flour or eggs. Yep, you read that right... And it gets better - There is only a total of THREE ingredients. Keep on scrolling to find out what they are and I am so excited to see & hear what you think when you try them. Regarding the spice mix, I used our Moroccan Chicken Mix but have since started using other spice mixes as well. You can literally add any SPICETUB mix of your choice to play with.


Makes about 8 wraps | Prep Time 10min | Total Time 3hrs 10min
1 cup red lentils
2 cups water
Add the lentils and water into a bowl and let sit for 3 hours. Then add your spice mix and blend in a food processor until a dough consistency forms. Add a spoonful of mixture to a medium heated non-stick (!) fry pan and try to gently spread the mixture out into a thin crepe/wrap thickness. Let firm up for about 30-40 seconds before gently flipping and frying for another 30-40 seconds. If the wrap is still too sticky to flip, wait a little bit longer and be super gentle. It gets easier with every wrap. Repeat until your mixture is all used up. I also sprinkled more spice mix onto the wraps while they were frying to enhance that flavour. Top with anything you like and enjoy!


By SPICETUB

** If you re-create this dish or any other delicious SPICETUB creations and feel like sharing the love on your socials, don't forget to tag us @spicetub and use the #spicyaction. We draw a winner monthly for some very special prizes! Good luck and happy cooking!