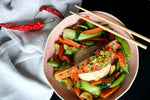 Crispy Skin Asian Style Salmon w Veg
Alright, tooting your own horn is not the classy way of introducing this new recipe of ours but holy moly, if you keep hmmm-ing and wow-ing while eating this delicious dish, you have a winner on your hands!
It's a super easy and super healthy dish! Colourful veg and a flavour-bomb of a salmon fillet and that's pretty much all you need: Your salmon & veg, some rice to serve it with and the all-time fave: 
SPICETUB Asian Salmon Mix.
Here are a couple sexy pics to get your tastebuds going followed by the recipe below:

Serves 2
2 salmon fillets, skin on
1 carrot, cut into thick matchsticks
1 spring onion, finely sliced
1/2 red capsicum, diced into 2cm cubes
1/2 zucchini, sliced into half moons
1 cup of snow peas, trimmed
1 small bunch of bok choy, trimmed at the stem
2 tsp of sesame oil (alternatively olive oil)
Heat a large frying pan with the sesame oil.
Once the sesame oil is hot, add the 
SPICETUB Asian Greens Mix**
 and cook until fragrant, about 1min. Add the carrot and white parts of the spring onion, reserving the green parts for serving. Sauté for about 3min, stirring.
While the carrot & spring onion is sautéing, cover a layer of
SPICETUB Asian Salmon Mix
 onto a plate and coat your salmon fillets in the mixture. Set aside until cooking.
Add all other veg into the stir fry pan, stirring occasionally and cooking until the bok choy is wilting and all veg looks coated and cooked to your liking.
Add the soy sauce & fish sauce, stirring to coat and take off the heat.
While the veg pan is doing its thing, heat another non-stick pan and place your salmon fillets skin down into the pan. Cook for 2min each side until golden & crisp from all sides.

Serve with brown rice, quinoa or enjoy on its' own. Sprinkle the reserved green spring onion on top of the salmon. 
Enjoy!
**If you do not have the Asian Greens Mix, you can also use the Asian Salmon Mix here.