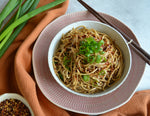 Alright, if you enjoy some heat and overall GOODNESS, this dish is for you. The cooking process is so much fun too with all its' sizzling & spicaaay sauce! We whipped this one up for one but multiply by however many you are cooking for and you are good to go. The soba noodles worked best for us, however feel free to use udon, ramen or any noodles you prefer for this dish. Enjoy, spicy friends! 


Serves 1, Prep Time 10 min, Total Time 20 min
1 serve soba noodles (or noodles of your choice)
1 tbsp spring onions, finely chopped
1 large garlic clove, finely chopped
1 tsp
SPICETUB Chilli Scrambled Egg Mix
1 tbsp soy sauce
1.5 tsp rice vinegar
1/2 tsp sugar
2 tbsp rice bran oil
Cook noodles as per packet instructions. In the meantime, combine all of the remaining ingredients (minus the oil) in a bowl. Heat the oil in a small saucepan until it begins to smoke, then pour into the bowl to make your sauce. Add the noodles in and mix well to combine. Garnish with spring onions & if you dare another sprinkle of the chilli spice mix! Enjoy!
By SPICETUB

** If you re-create this dish or any other delicious SPICETUB creations and feel like sharing the love on your socials, don't forget to tag us @spicetub and use the #spicyaction. We draw a winner monthly for some very special prizes! Good luck and happy cooking!