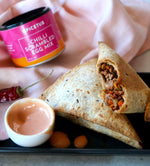 Chilli Beef Cheese Pockets
Spicy, hearty, cheesy, delicious and FUN! That's a good summary for these little chilli beef cheese pockets, I reckon! If you didn't guess this already but the pockets themselves are made out of wraps and if you know me, you know that I loooove wraps! Whether it's as my pizza base, as the TikTok quesadilla fold or now these super cute pockets - Wraps are the best! Now, let's see how the pockets are made:


Makes 6 pockets | Prep Time 10min | Total Time 40min
Firstly, prepare the 'glue' for the wraps by mixing a little bit of flour and water together to a sticky glue. Cut the wraps in half, fold/roll into pockets and glue together, leaving the top open to fill.
Cook the beef, tomato paste, veggies and spice mix until cooked through. Add the cheese slices, close with a lid with the heat turned off just so that the cheese melts slightly. Fill your pockets, glue together at the opening and bake at 200C for 15min. Serve hot with your favourite sauce. I just mixed together some mayonnaise and tomato sauce. Enjoy!


By SPICETUB

** If you re-create this dish or any other delicious SPICETUB creations and feel like sharing the love on your socials, don't forget to tag us @spicetub and use the #spicyaction. We draw a winner monthly for some very special prizes! Good luck and happy cooking!