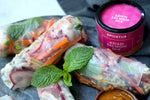 Chicken Rice Paper Rolls w Crunchy Peanut Dipping Sauce
Pairing our Asian Salmon Mix with chicken is definitely not what comes to mind straight away but Hayley from @hayleyjconnor convinced us to try and wooooooow. This combo is to die for and that peanut sauce to go with it, don't even get me started! Let's go! 


Makes 8 rice paper rolls | Prep time: 10min | Total time: 20min

INGREDIENTS

1 carrot, cut into thin strips
1/2 red capsicum, cut into thin strips
Handful of snow peas, cut into thin strips
Handful of the store bought raw Rainbow Coleslaw Mix or Kale Slaw Mix
Handful of fresh mint leaves, cut into thin strips
1 tsp coconut oil
500g chicken mince
1 tbsp SPICETUB Asian Salmon Mix
8 sheets of rice paper

Peanut Dipping Sauce

3 tbsp crunchy peanut butter
1 tbsp tamari or soy sauce
1 tbsp Kecap Manis (sweet soy sauce)
Juice of 1/2 lime
4 tbsp water
Optional: Generous pinch of SPICETUB Chilli Scrambled Egg Mix


METHOD

Prepare your veggies by cutting them into thin strips. Heat the coconut oil in a saucepan over medium heat and cook the chicken mince until it is cooked through. Stir through the SPICETUB Asian Salmon Mix and transfer into a bowl. Dip a rice paper into warm water and lay on a plate. Fill the lower half with your veggies and a spoonful of the chicken mixture, folding the lower edge first, then the sides and finishing by rolling the rice paper into a finished and fully closed roll. Try to roll the fragile paper as tightly as possible. Repeat with the remaining rice papers until all filling is used up. 
To prepare the dressing, simply whisk all ingredients together and enjoy as a dipping sauce. If the dressing is not coming together just by stirring it, you can also prepare this sauce in a food processor by quickly blitzing it together. Enjoy!


By Hayley Connor from @hayleyjconnor

** If you re-create this snack or any other delicious SPICETUB creations and feel like sharing the love on your socials, don't forget to tag us @spicetub and use the #spicyaction. We draw a winner monthly for some very special prizes! Good luck and happy cooking!