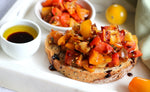 Bruschetta has always been one of those dishes in an Italian restaurant that I can't ignore on a menu. I HAVE TO GET IT. It gets the taste buds going for what's to come. Garlicy goodness that makes you want more and more and more. Now, close your eyes enjoying this bruschetta recipe below and experience how close to restaurant quality it really is! I would honestly not know whether I am sitting at home in my PJs or in a fancy restaurant on the Cinque Terre. It is THAT good! Homemade and you won't leave with the unpleasant garlic & onion smell on your hands because all that goodness is already in the spectacular SPICETUB spice mix! Can't get any better! Scroll on and enjoy. 

Serves 1 | Prep Time 5min | Total Time 10min
2 slices rustic bread
10 cherry tomatoes
1 tbsp
SPICETUB Red Pesto Pasta Mix
1 tbsp olive oil + extra dash
Dash balsamic vinegar
2 tsp balsamic glaze (optional)
Fresh basil for garnish (optional)
Toast the bread until lightly browned and crispy. Cut the cherry tomatoes into quarters or finer if preferred. In a small bowl, mix the
SPICETUB Red Pesto Pasta Mix
with 1 tbsp of water. Let sit for a couple of minutes to soften, then add 1 tbsp of olive oil. Mix and let infuse for a couple of minutes. Add the paste to the tomatoes and add a dash of balsamic vinegar. Drizzle the freshly toasted bread with olive oil, top with the tomatoes and if using, add the balsamic glaze and fresh basil at last. Enjoy! 
By SPICETUB

** If you re-create this dish or any other delicious SPICETUB creations and feel like sharing the love on your socials, don't forget to tag us @spicetub and use the #spicyaction. We draw a winner monthly for some very special prizes! Good luck and happy cooking!