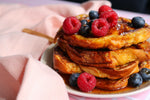 Let's make the most incredible Sunday breakfast café experience (that will cost you approximately $18 at least), an every day simple, quick and super delicious at-home experience! I am talking 15min, 7 ingredients and yep, you may stay in your PJs! WHAT!
French toast used to be that decadent choice on a café menu that made me feel all fuzzy and giddy. After making this version at home with the SPICETUB Apple Crumble Mix, I am not sure if this is a café choice for me anymore. I know it's a big call  but I personally do prefer this at-home version now over any café French toast I have ever ordered. Biiiig call, I know! Let's go!

Serves 2 | Prep Time 5min | Total Time 15min
2 eggs
1/2 cup milk
1 1/2 tsp
SPICETUB Apple Crumble Mix
1 tbsp butter
4 slices Brioche bread
1/2 cup fresh berries
2-3 tbsp maple syrup
In a wide bowl (that fits one slice of bread easily), mix together the eggs, milk and SPICETUB Apple Crumble Mix. Make sure to whisk quite vigorously to make sure that the spice mix is mixed well into the liquid.
Heat a pan on medium heat and add the butter to the pan to melt. Pop a slice of bread into the egg spice mixture bowl and soak from both sides. 
Add the soaked bread slice to your pan and fry 2-3 min on each side. Repeat with the remaining slices of bread. 
Serve with fresh berries and maple syrup and ENJOY!
By SPICETUB

** If you re-create this dish or any other delicious SPICETUB creations and feel like sharing the love on your socials, don't forget to tag us @spicetub and use the #spicyaction. We draw a winner monthly for some very special prizes! Good luck and happy cooking!