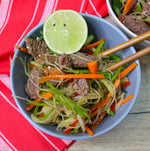 Think fresh, tangy, fragrant, healthy, satisfying and super easy to prepare! This beef vermicelli salad is a definite go-to in our meal prep books also - You can prepare all veg prior, cook the meat on the day and have the delicious dressing already prepared on the side to pour over when ready. Honestly, this one is a winner!

Serves 4, Prep Time 20 min, Total Time 35 min
400g beef steak strips
100g vermicelli noodles
1 carrot, 
fi
nely chopped into sticks
1 cucumber,
fi
nely sliced
1/2 capsicum, 
fi
nely sliced
100g snow peas, sliced
1/2 red onion,
fi
nely sliced
1/2 cup fresh mint
1/2 cup fresh coriander
DRESSING
2 limes, juiced
2 tbsp tamari or soy sauce
1 tbsp SPICETUB Asian Greens Mix
2 tsp pure maple syrup
Prepare the dressing by stirring all ingredients together in a bowl. 
Grill the beef in a non stick pan on medium-high for 5min until cooked to your liking.
Meanwhile, soak the noodles in boiling water for 10min before draining and rinsing.
Combine the remaining ingredients in a bowl and mix through dressing. Top with beef strips and 
serve with a wedge of lime. Enjoy!
By SPICETUB

** If you re-create this dish or any other delicious SPICETUB creations and feel like sharing the love on your socials, don't forget to tag us @spicetub and use the #spicyaction. We draw a winner monthly for some very special prizes! Good luck and happy cooking!